August 2009
This entry should be shorter, because there was not as much going on this time as the last entry.
Let me state for the record, that I should not have been at this game. I had tickets for the previous day's game, and I mistakenly assumed that they were for the game I went to. It was a struggle and took a lot of loopholes to get tickets for the Wednesday game, but soon enough, I had seats in section 7. If anyone paid attention to the Tuesday Pirates-Phillies matchup, they would know that I had tickets to the best game of the season, and blew it big time.
So I went to the game again with my friend Colston, and upon entering the park I was a little upset. As my ticket was being scanned, the gates were being open to everyone, so I would be behind in getting to BP. I did get in, and caught up with Erik Jabs. After a quick hello, he was off to right field to capitalize on the lefty hitters.
I did not get any balls during BP, but I also failed in my chances to get autographs. Pedro Martinez was jogging along the warning track when all of a sudden, he stopped to say hi to Manny Sanguillen and signed autographs. I went over and got in a good position for him to sign my Gold Glove Baseball, but he said to us that he had to leave.
Still, I did not see much problem with this, as Raul Ibanez was to my left striking a conversation with one of his friends. He then proceeded to sign his friends ticket. When the conversation ended, I asked him if he would sign my baseball, but he said this instead, "I don't sign during batting practice". While he did respond to me, his response was an absolute copout. I had just seen him sign for his friend, so understandably I was upset at him, but I decided not to say anything, as I tried to blend in as a Philly fan. I didn't want him to think I was a Pirate fan, because that would not bode well for me.
Later on Ibanez seemed to be even more foolish as Phillies reliever Scott Eyre briefly signed. So I ended up with no signatures at BP and no balls to boot. I did end up with something though, as I got my pain in my knee to come back.
After BP, I went to the bullpen area to see if there were any baseballs in there, but there were none. Seeing the lost cause, I decided to head to my seat.
Things did not get much better at my seats though. One of the reasons I pay the extra money to get the close seats is because of the autographs however I was in for a big surprise, and not a good one.
I was standing in the front of the row as usual with the full understanding that many of those with me would be leaving as they would be kicked out of the section at 6:30. However, the ushers were either really cranky or the extra rules and regulations set by the Pirates were absolutely pathetic. Not only would the fans who were not in the section going to be kicked out from seeking autographs at 6:30, but those not in the front row of each section would have to return to their seats as well.
I asked my usher, who looked like former baseball player John Wehner if I could stay in the front since I am in the section, but got a no since I was not in the front row of the section. Then he added, "Nobody's going to be signing." Well of course nobody will sign when you force everyone to sit down in their seats. So because of the Pirates and their stupid regulations, I got no autographs. Based on the way the ushers acted, you would have guessed that each member of the Phillies had swine flu, but no, they were just trying to ruin everyone's good time.
It just felt awkward just waiting for the game started. I already had the lineups filled out and it was watching paint dry. I also was right in the middle of my row which made things harder because I always had to get up. My knee was still in pain, so that never helped.
The game started and of course Philly gets a home run in the first inning. I ended up leaving my section in the third inning (and I could not leave fast enough), for dinner. I then grabbed my dinner and went straight to the Riverwalk.
Nothing was really going on there, but the winner of Pirate Quiz got a set of Rolling Stones music, so not that bad of a prize.
After that, I decided to try my luck at the bullpen. I also shaved the night before to appear younger to those in the bullpen. I was a little more careful, because I was not sure if Luis Dorante would recognize him from five days earlier.
I was able to get much closer than I did when I started a few days ago, when I was as far as can be. On this day, I was a spot away from the corner spot, but a kid was there and never left. So with not much action, I stayed and chatted with those by the bullpen. Eventually, a group of three people came over, one of them looking like former Pirates pitcher Ian Snell (picture below).
In the ninth inning, I put on my rally cap and continued talking. However when Brandon Moss came in to pinch hit, someone asked what good he was going to do. I then replied saying, "just watch, he's going to hit one right over the wall." She laughed, but sure enough, Moss went deep, and all of us celebrated as if the ball had just dropped during New Year's at Times Square. High fives were exchanged with all, and after I correctly predicted that Ramon Vazquez would ground out to the shortstop, we went to extra innings.
After Steven Jackson allowed the first two Phillies hitters on base, he was lifted for fellow reliever Phil Dumatrait. Dumatrait has been warming up, and was put in to face Chase Utley, a lefty. This was obviously done to get a favorable matchup as Dumatrait is the lone left-hander in the Pirates bullpen.
After Dumatrait finished throwing, I saw this as my last chance. It was bullpen catcher Heberto "Herbie" Andrade who had the ball and I called down to him to toss it. After he told me that he couldn't hear me, I asked my request again, but louder, and he said yes. Andrade (pictured below in the Pirates batting practice jersey), then tossed me my first and lone ball of the day.
The really good thing about this ball, was that it was not a practice one. You could tell that it was used more than just that one bullpen session, and the quickness in my request ensured that Andrade unlike Dorante didn't have time to switch balls.
Dumatrait unfortunately came in, and allowed a first pitch three run home run to Ryan Howard and effectively ending the game.
The game was a fun one, but compared to the game before was a big letdown, because other than getting the baseball, nothing happened.
I will be at the ballpark 9/4 and 9/6 so entries will come soon for those.
Posted on August 29, 2009 at 8:13 pm

Filed in:

Dailies
I went to this game with my friend Colston. The day started off innocently enough as we went into will call to try and get tickets. It was a Friday night game so first base wasn't going to be available, and I went for third base seats and got them. We were playing the Cincinnati Reds who aren't much better than the Pirates, so I was anticipating a nice win.
It was 1979 celebration weekend, and you could tell when you entered the stadium and got a gold pill box cap (pictured below) much like the one the Pirates wore in 1979.

Immediately afterwards the wait began. Since I am not a season ticket holder, I was not given the 30 extra minutes of batting practice like most of the ballhawks do. So I decided to take advantage of Dollar Dog Night, and thus got the first two hot dogs of the night. I then went to the Songwhale booth and played Press Your Buc. I hit Big Bucs, and won a coffee mug as well as a choice of a Floppy Fishing Cap or any of the CDs. I already had the hat, and chose a CD. By then, the gates opened and the madness ensued.
I then headed to left field for BP and finally met ballhawk Erik Jabs. I had read his blog religiously throughout the whole season, and it was great to finally meet him. Unfortunately, neither of us had any luck while we were together. After parting ways, Colston and I headed to our seats.
Nothing much was going on, so I decided to go over to say hi to Stan Savran (pictured below) before he started his show at 6:30. After saying hi, it was 6:30 and those who were not in their actual section were kicked out.
I then called my friend Ryan, because he and a couple friends were at the ball game. I went over and said hi and prepared for the game.
For those new to my blog, I really try to go for as many autographs as I can. I am not the most serious person that goes for autographs, I don't push everyone out of the way, and sometimes, I am even generous, but once I am at a spot, I refuse to give up my spot for anyone.
Tonight was a special night, as I really started really going for autographs this season (my high at the ballpark is 7 and my high outside of the ballpark is 19 at Bowling With the Bucs). I was going for my 200th total signature tonight, and whoever signed first would be lucky 200. I also determined, that I needed a picture with whoever gave me #200.
This however, would prove to be an easy task, as the Pirate Parrot (pictured below) was down by the wheelchair section, and my section was right by the stairs leading to the section. Right away, I went down and he signed my scorecard. While the signature may seem anti-climatic, I count mascots. I already had Steely McBeam as well as the Jolly Roger, so this one obviously counted. Even better, was that I already had a picture with the Pirate Parrot, so there was no need to take another one.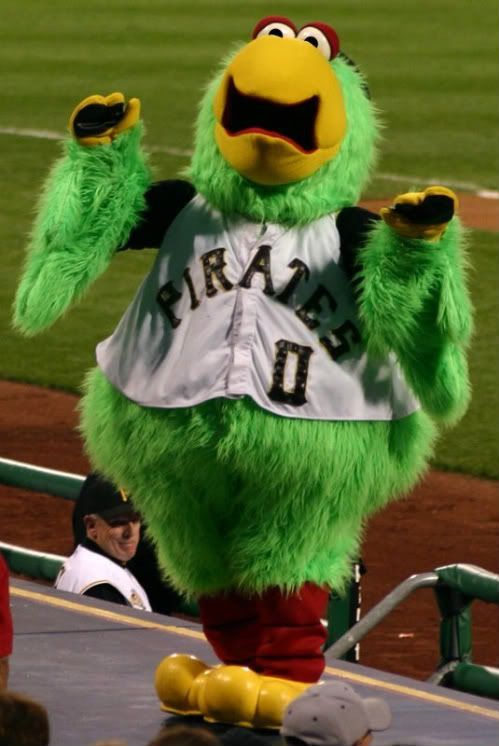 Still, I had to think quickly, because a minute later, Steve Pearce (pictured below) was signing by the third base line. I had to watch where I came in, because it was past 6:30, and I ran the risk of getting kicked out. So instead of going straight into the section right where the usher was standing, I worked my way around by going into a section and going through the empty rows. There was a lot of competition going for Pearce and one of the people in front of me, forgot his pen which was not smart, because I was not giving him mine. Pearce after a while said that he had to go, and signed my scorecard last.
However when he tried to give me back the pen, the exchange failed and the pen was in the dirt. So Pearce threw me back the pen and the throw was pretty good. There was one problem with it. I am left-handed and seemingly can't catch anything with my right hand, and the throw was clearly coming toward my right hand. Somehow, I made the catch and I felt that it was a miracle. I looked around to everybody trying to see if they saw the catch, but it was seemingly ignored (of course). Right after this, I was kicked out of the section.
I was undeterred though, as I walked slowly towards my section to make it seem as if I had left. I then walked back towards Ryan to pass time. I then sat back in my seat waiting for the players to come over and sign so that I had an excuse to come over.
Eventually, I saw Ronny Cedeno signing and I went over. However, I instantly realized that it was really crowded despite taking a spot. I then quickly had to reassess the situation. I either could get Cedeno which could result in me potentially losing a ton of signatures, or I could give up my spot and try and get a new spot and risk getting absolutely nothing.
For me, I took the risk, and I did not see it as much of a risk. I left the spot and then found a new spot closer to the center and was in front. I was in pretty good shape in terms of getting signatures. I did get a little worried when both Andy LaRoche (who seemingly always signs) and Delwyn Young did not sign, and I thought my risk had failed.
I also got even more worried when both Andrew McCutchen and Lastings Milledge went over to start signing and went to my far left. The only person out was Garrett Jones, and he was working on his swing, as evidenced by his bat and batting gloves. When he finished, someone right around me screamed for him, and sure enough he was jogging my way.
After a couple signatures, he started drifting a bit, but I was not worried. My scorecard contains spirals and I knew that if I reached out far enough, the spirals may make contact with his glove. Despite my shoulder having been in immense pain for that whole week, I reached that arm out and sure enough the spirals made contact. Soon after, Jones (pictured below) signed my scorecard.
After he signed, I made sure to thank Jones, and unlike many others, he responded with a, "you're welcome".
Soon after, I noticed that Milledge and McCutchen were coming over. In truth they already signed once each for me on my Gold Glove Baseball, but I had the scorecard so I thought it would be cool to have them again.
Milledge (see photo) came over first, and was making his way down the line. He signed my scorecard and at the time a kid behind me, was calling Milledge asking him to sign his baseball. Lastings said that he would get to him. It looked like a long shot though, because the kid had no reach. I then displayed an act of generosity, telling Milledge that I would get the ball from the kid and giving it to him to sign and then giving it back to the kid. Milledge seemed pretty happy and signed it. The look on the kid's face was priceless.
Soon after that McCutchen (photo below) came over and started signing. He also signed my scorecard, and after getting him turned around to head back to my seat. Just as I was heading up, one of the ushers was heading down to kick everyone out. So by realizing that I wouldn't get Cedeno and moving my location, I got 3 autographs. Risk well taken!
I then headed back to my seat and sat there for a couple of innings before heading over to the Riverwalk.
After failing to get my friend on Pirate Quiz, I went to the bullpen to try and get a baseball. I got my first ball on July 31 against the Nationals, when Willie Harris hit a foul ball and the bat boy tossed it to me. I didn't know what to expect when I got there but it was worth a try. If you do try and get a ball from the bullpen, you have to stay behind a fence they have, so you don't spit on the players, etc.
At first I did not get the corner spot, however after a while people left and I quickly reacted and took the spot.
About an inning or so later, reliever Phil Dumatrait (photo below) who was finally back in Pittsburgh after all of his injury trouble was in my view. I screamed, "Phil, welcome back!" His response was a simple smile and wave. Much like what Tiger Woods did to me in the 2007 US Open Dumatrait at least knows that I exist.
After a while, reliever Steven Jackson was warming up in the bullpen, and I decided to make my move. When it turned out that Jackson was not needed in the game he gave bullpen coach Luis Dorante the ball. Dorante then placed the ball in his back pocket.
After a few seconds I called out to Luis saying, "Luis may I please have a ball?" After my request, Dorante (see below) disappeared for a minute and then came out looking for me, and tossing me my one and only ball of the day. It was obvious that he switched balls, as he had given me a practice ball, but I didn't care. The marks on the ball made it look pretty interesting, and I could tell that it was game used.
I then tried to get back to my seat but ran into Ryan and his friends. We parted ways, as they were leaving the park. I then ran back up to my seats to try and get a ball from the umpire. However I was not quick enough to get their attention, and they only had three balls. Still I was on the board with my second ball of the season and I was excited for the next game? Could I get on the board the next game? You'll just have to wait until the next entry to find out.
Posted on August 28, 2009 at 8:58 pm

Filed in:

Dailies